Posted by Kristin
Thursday, January 1, 2009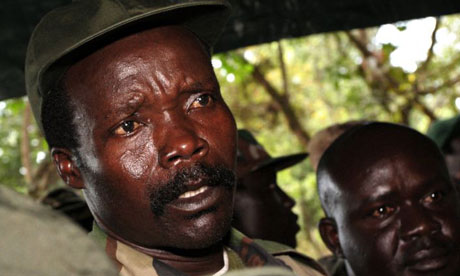 Alice Auma an Acholi spirit – medium woman, was a leader of the Holy Spirit Movement (HSM) a rebellious movement against the Ugandan government. Alice, claimed to be possessed by a spirit named Lakwena. The HSM, after suffering a sound defeat quickly fell apart, forcing Alice to flee leaving way to what is now the LRA lead by Joseph Kony to form.

Lord's Resistance Army (LRA), a Ugandan rebel group formed in 1987, currently led by Joseph Kony, perpetrated one of the bloodiest massacres over Christmas and the following days. An estimate of 400 people lost their lives while the LRA went from town to town burning, pillaging and abducting children to continue their reign of terror. (It is important to note that LRA has denied any involvement in the Christmas day massacres.)

The LRA is well known for its abduction of children. These children are used as " guards, concubines, and soldiers." Without the enforced servitude/slavery of child soldiers the LRA's fighting forces would be tremendously reduced.

An estimate of 20,000 children have been abducted and used in the LRA's consistent brutal reign of terror over a period of 18 years. The profile reported by BBC found Kony's philosophy for his continued cruelty came from his desire to cleanse the Acholi people. A more sinister reason for the LRA's sustained terrors is the secular benefits. Kony and his top officials have first pick of the young girls taken captive to be their wives as well as any looting goods.